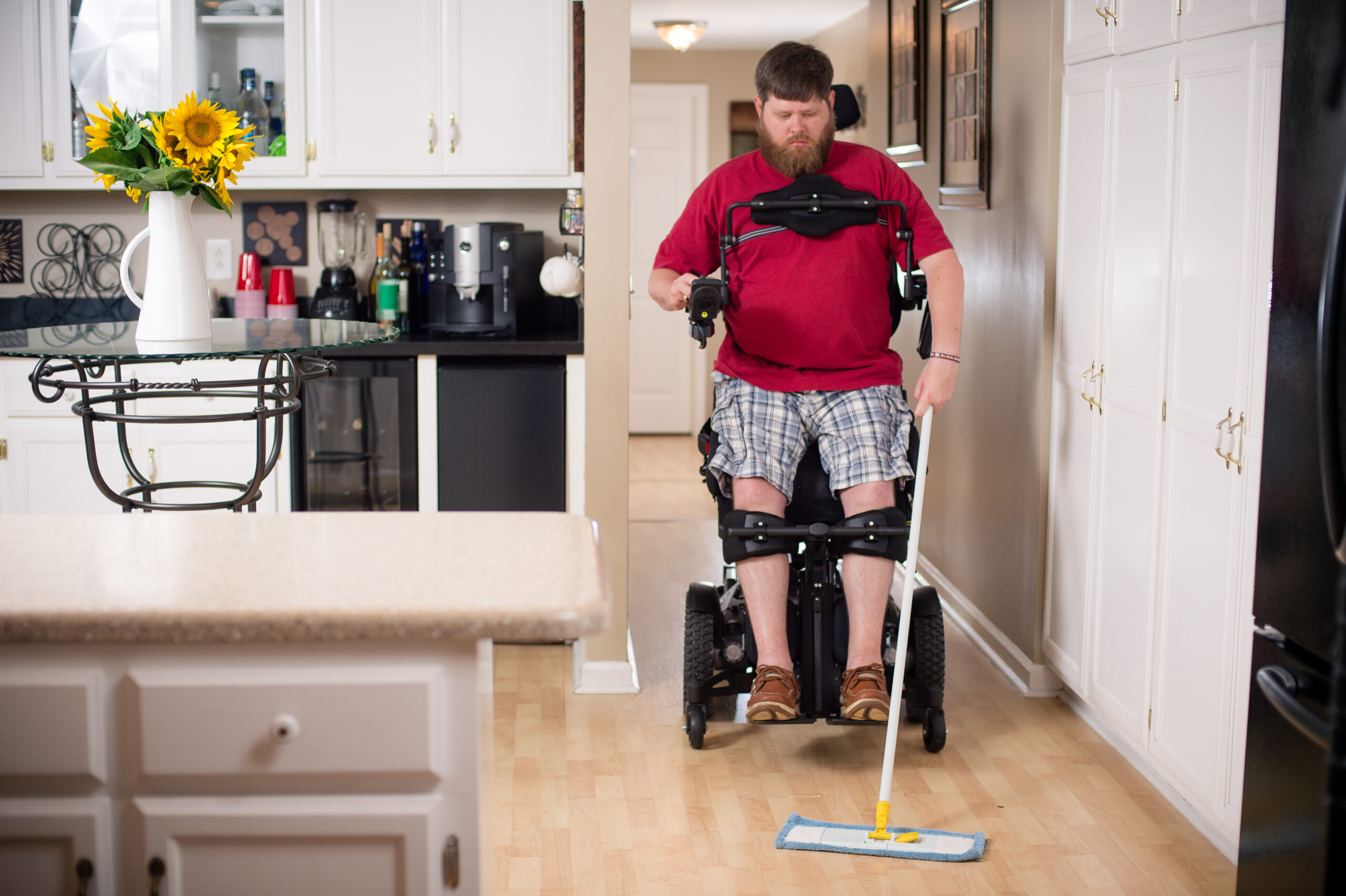 Getting Injured Workers Back on Their Feet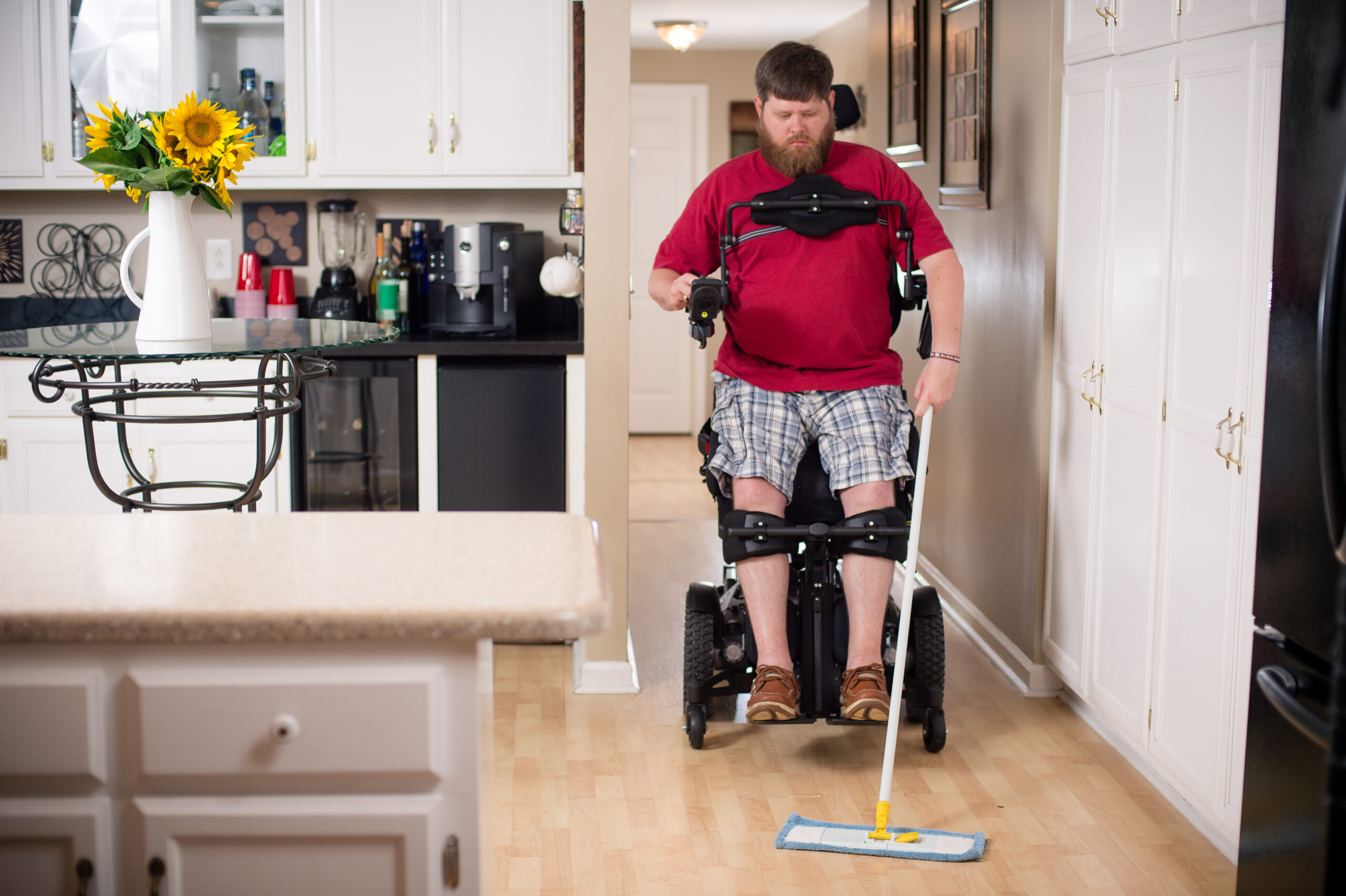 By Rick Wyche, ATP, C.E.A.C. Executive Director of Sales, Marketing & Business Development 
ATF Medical 
Losing the ability to stand is one of the hardest adjustments a severely injured worker ever makes. Humans are designed to stand, taking the pressure of their weight on their feet.
If sitting is the new smoking and bad for sedentary workers, imagine how bad it is for someone confined to a wheelchair. Sitting for 12-14 hours a day causes hamstrings to tighten and muscles to contract. As we all know, limited activity can lead to weight gain and obesity.
Standing is good for bone density, circulation, digestion, bladder, and bowels among other things. In addition, standing is one of the best pressure release techniques, which prevents painful and expensive-to-treat pressure injuries or wounds.
Standing brings psychological benefits as well. With a standing wheelchair, an injured woman can literally look people in the eye and more easily interact with friends, family, and colleagues. And, whether it's standing at a bar or a urinal, standing makes a man feel more like a man.
In addition, many injured workers can perform more activities of daily living when they use standing wheelchairs. Confidence, independence, and functionality are some benefits.
Cost tends to be the barrier to standing wheelchairs. Understandably, payers flinch at a $65,000+ price tag for a standing chair, but most injured workers can get into the equipment themselves and a press of a button elevates into an upright position. This reduces the number of caregivers and those costs, along with avoiding other significant costs:
Home modifications. There's no need to renovate the kitchen if the worker can reach the cabinets. 
Pressure injury treatment. (A hospital visit can run $100,000 or more). 
Medical treatment for complications, like urinary tract infections, pressure injuries, osteoporosis, and digestive disorders. 
Restoring the ability to stand can facilitate a person's ability to work and increase an employee's productivity. ATF Medical worked with a police officer who was badly shot and confined to a wheelchair. He was able to eventually return to work, assigned to a desk job. Because he couldn't reach files in the top drawers of file cabinets, the police department hired an assistant to help him. After going through a standing program and receiving a standing wheelchair, he was able to handle all his duties without the assistant. The police department reassigned the assistant, and the officer regained pride in his ability fully contribute to solving crimes.
Workers' comp care should restore a worker to their pre-injury condition as much as possible. Not only do standing programs help do that, but they provide major health benefits and help avoid significant costs. Yes, it's an investment, but it's an investment in the workers' overall physical and mental wellbeing.
It's worth examining claims for workers who would benefit from a standing chair in – and outside – their homes.
# # #
Author Bio 
Rick Wyche, ATP, C.E.A.C.  
Rick Wyche 
Executive Director of Sales, Marketing & Business Development
ATF Medical 
rwyche@atfmedical.com 
As Executive Director of Sales, Marketing & Business Development, Rick Wyche serves on the company's senior leadership team, sets business development strategy and oversees the company's marketing and account management teams. Wyche is an expert on mobility and accessibility equipment and technology used by injured workers.
He joined the company as an intern while he was still in college and has worked in nearly every part of the business, from customer service to evaluating seriously injured workers and fitting them with complex rehabilitation equipment.
A graduate of George Mason University in Fairfax, Virginia, Wyche holds Assistive Technology Professional (ATP) and Certified Environmental Access Consultant (CEAC) credentials. He can be reached at rwyche@atfmedical.com.
About ATF Medical
ATF Medical provides all the medical equipment and adaptive housing projects required for a complex workers' compensation claim. The company's clinically driven, outcomes-oriented solutions include a carefully coordinated combination of complex rehab technology, mobility, assistive technologies, and home accessibility projects. Its adaptive housing programs include contractor selection along with design and construction oversight.
Formerly known as After the Fall, ATF Medical was founded in 2001 and its headquarters are near Atlanta in Newnam, Georgia. For more information, visit www.atfmedical.com or call 877-880-4283.