COVID-19 Omicron Variant – Cause for Concern?
The World Health Organization classified the new COVID-19 Omicron variant as a variant of concern on November 26. The newly designated strain poses a "very high" global health risk and a threat of quick community spread. Because of its multi-mutation surface protein, there is a possibility that Omicron spreads more quickly and might resist vaccines and even skip virus detection tests. How will that affect vaccinated, unvaccinated, and people who were infected with previous strains? Here is a detailed overview.
COVID-19 Omicron Variant – B.1.1.529:
When and how was the strain first detected?
South African scientists identified a new COVID-19 variant while performing SARS-CoV genome analysis of patients' samples. The new strain featuring "a very unusual constellation of mutations" is seemingly more contagious and can drive another wave of community spread. On November 26, 2021, the World Health Organization (WHO) classified this new variant, B.1.1.529, as a Variant of Concern and named it Omicron.
Are there any Omicron cases in the USA?
The first USA confirmed Omicron variant case has been identified in California on the 1st of December. Canadian officials also confirmed the detection of the variant in Canada. CDC is actively tracking and following the details of this new variant in the USA. CDC and top USA health officials are working closely with other U.S. and global public health and industry partners to monitor and learn more about this variant.
Why does it pose a threat?
The new variant was likely evolved during chronic COVID-19 infection of an immuno-compromised person, possibly in an untreated HIV/AIDS patient (Source).
The key variables to consider with this new variant are:
Transmissibility – The new strain is highly transmissible due to multiple mutations.
Risk of reinfection – Due to the unique nature of this variant's spike protein, the risk of reinfection is high. Early research on the strain reveals that the virus may be able to escape the immune system. Apparently, some scientists at NGS-SA have predicted these mutations likely confer significant immune evasion, which is a concerning factor considering the huge risk of community spread.
Disease severity – There is not enough data on this yet. However, unlike the Delta variant, the early reports on Omicron infections only show mild symptoms in patients.
Vaccine effectiveness – All major COVID-19 vaccination manufacturers are now researching the vaccine effectiveness of this new variant. Based on the laboratory studies and epidemiological studies, vaccine effectiveness will be determined soon.
Diagnostics – Because of its morphological mutational changes, the new variant may skip the antigen COVID-19 testing for specific assays. However, it's uncertain if it will affect rapid antigen tests looking for spike proteins instead of N-proteins.
Delta vs. Omicron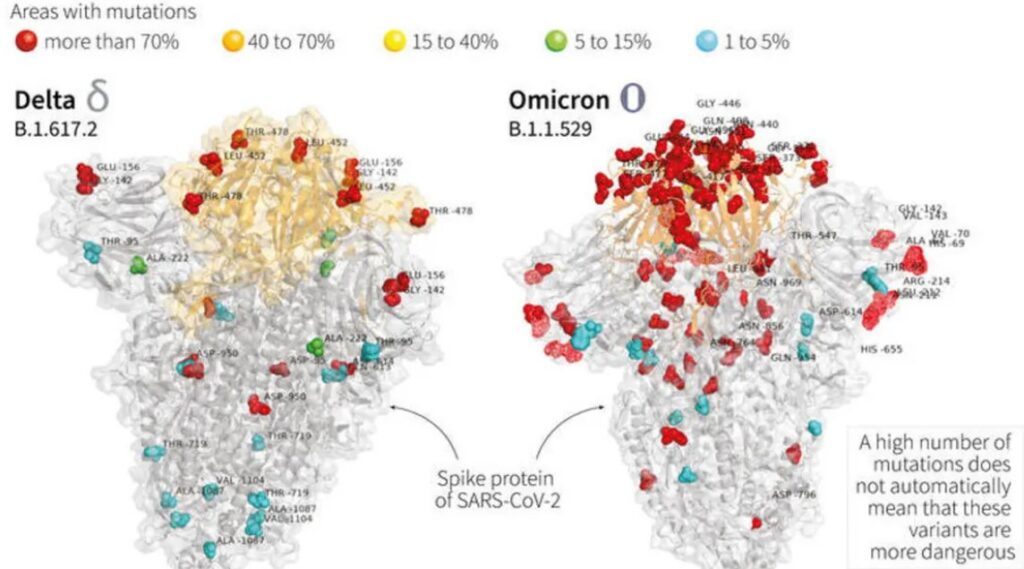 The new Omicron variant has many more mutations than the deadliest Delta variant. Based on the initial data released by officials in South Africa and produced and published by the prestigious Bambino Gesu hospital in Rome, the new strain has many more mutations concentrated in one area of the spike protein that interacts with human cells. Due to these mutational changes, the new variant may exhibit different symptoms and skip antigen testing and vaccine- or infection-induced immunity. However, there is not enough data to support these claims.
By Chitra Goel
Courtesy of Axiom