NCCI Annual Golf Event Tees Up $25,000 for Kids' Chance of America
(Orlando, FL–May 10, 2023)—The National Council on Compensation Insurance (NCCI) has given $25,000 to Kids' Chance of America, supporting college scholarships for the children of injured workers. NCCI made the donation in conjunction with its Annual Insights Symposium (AIS) 2023 golf tournament in Orlando, FL.
Kids' Chance of America and its 50 state affiliates provide educational enablement to young people affected by a parent's workplace injury or death. Guy Carpenter, a leading global risk and reinsurance specialist and a business of Marsh McLennan (NYSE: MMC), is the tournament sponsor.
"This golf event is a highlight for NCCI because it makes a difference for young people whose families have been affected by workplace injury or death," said Bill Donnell, president and CEO of NCCI. "The tournament connects people from across the insurance industry to help Kids' Chance offer hope and financial relief to these deserving students."
"Kids' Chance does meaningful work, and Guy Carpenter is proud to support this event and the students who benefit," said John Trace, CEO of North America at Guy Carpenter. "Kids' Chance is a tremendous grass roots organization started by caring people in the workers compensation system."
"When a worker is seriously or fatally injured, it can devastate their entire family," said Jeannette Archer-Simons, executive director of Kids' Chance of America. "Kids' Chance, with the help of great companies like NCCI and Guy Carpenter, make it possible for these kids to have a chance at a better future."
Kids' Chance has awarded more than 9,300 college scholarships across the country valued at more than $33 million dollars. Kids' Chance recognized Bill Donnell and NCCI for their long-time partnership in 2022.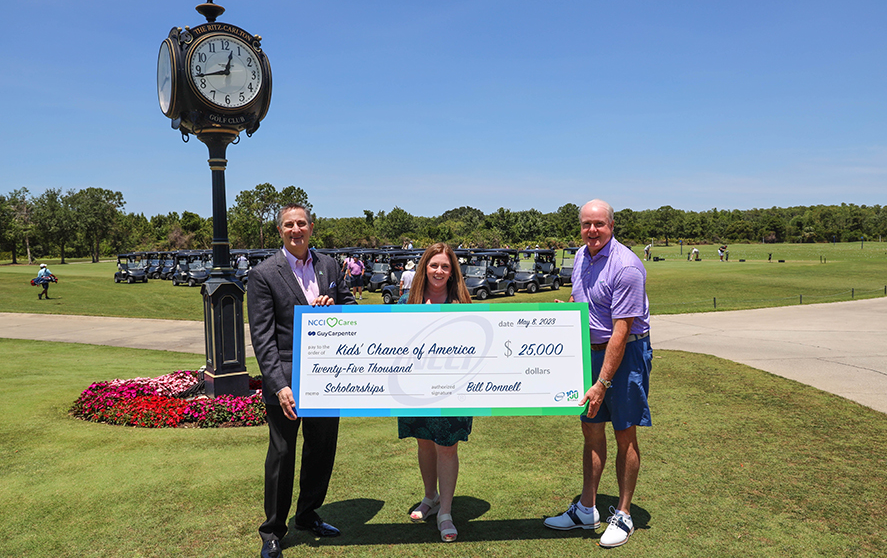 Shown here left to right: Mark Mileusnic, chief customer operations officer, NCCI, Dana Genheimer, president of Kids' Chance of America, and John Shea, managing director, Guy Carpenter, at the tournament on May 8 at the Ritz-Carlton Golf Club, Grande Lakes in Orlando, FL.
About Kids' Chance
Kids' Chance of America is a 501(c)(3) organization that represents a collection of state-level nonprofit organizations that provide scholarships and support to the kids of workers who have been injured on the job. Cumulatively, since their inception in 1988, Kids' Chance organizations have awarded over 9,300 scholarships totaling over $33 million dollars. To learn more about Kids' Chance, visit our website at www.kidschance.org.
About NCCI
With 100 years of experience, NCCI serves as the nation's most comprehensive source for workers compensation data, insights, and solutions. As The Source You Trust, NCCI's mission is to foster a healthy workers compensation system through its role as a licensed rating, advisory, and statistical organization. NCCI's thought leaders analyze workplace trends and deliver insights to empower informed decision making. Its employees are proud to embrace an environment of respect, integrity, responsibility, diversity, and inclusion.
About Guy Carpenter
Guy Carpenter & Company, LLC is a leading global risk and reinsurance specialist with 3,500 professionals in over 60 offices around the world. Guy Carpenter delivers a powerful combination of broking expertise, trusted strategic advisory services and industry-leading analytics to help clients adapt to emerging opportunities and achieve profitable growth. Guy Carpenter is a business of Marsh McLennan (NYSE: MMC), the world's leading professional services firm in the areas of risk, strategy and people. The Company's more than 85,000 colleagues advise clients in 130 countries. With annual revenue of over $20 billion, Marsh McLennan helps clients navigate an increasingly dynamic and complex environment through four market-leading businesses including Marsh, Mercer and Oliver Wyman. For more information, visit www.guycarp.com and follow us on LinkedIn and Twitter.
Media Contact:
Director, Public Relations & Communications
NCCI