6 Cybersecurity Risks to Businesses
06/23/22
AmTrust Financial
---
---
Summary: No organization, no matter the size, is immune from a cyber attack. Learn the six trending cybersecurity issues that could wreak havoc on a business and find out how to prevent them.
Every employer faces the reality that they could be the target of cybersecurity attacks or data breaches, which can jeopardize their credibility and cost thousands of dollars (or more) in damages. The total number of cyber attacks increased by 50% in 2021, with the education, healthcare and research industries getting hit particularly hard. By following simple preventative steps, business owners can protect their organizations from cyber attack risks.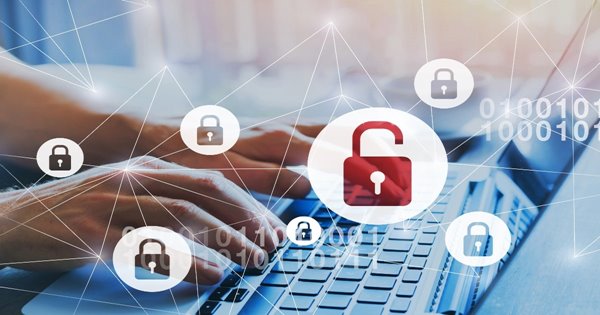 Watch Out for These Cybersecurity Risks
The COVID-19 pandemic has impacted how, when and where we work. A large portion of the workforce is still working remotely, most if not all of the time. The change to remote work and a reliance on cloud-based services, such as online meetings and file sharing, has opened up more opportunities for cyber attacks. Businesses must focus on securing their company and customer data now more than ever.

Below are six cybersecurity risks that can wreak haoc on a business and how employers can train their employees to be diligent for cyber attack red flags.
Cybersecurity Risk #1: Deepfakes
Deepfakes, developed from artificial intelligence technology, can take an image of one person and replace it with another person's likeness. There were over 85,000 deepfake videos reported in 2020. As the technology is easier to use, more people are making these types of videos, and their impact could be felt across the business, political and media worlds.

Tips to Prevent Deepfakes
Watch out for deepfake videos spreading fake news.
Check for authenticity before you share the videos that you think could be deepfakes
Beware of fraudsters using deepfake videos in social engineering schemes.
Cybersecurity Risk #2: Ransomware Attacks
Ransomware is a type of malicious software designed to block access to a computer system until a sum of money (or ransom) is paid, or some other action is completed. Sometimes, a ransomware attack is as simple as forcing the user to complete a survey. The most common types are lock screen and encryption ransomware. The lock screen shows a full-screen message that prevents the user from accessing their PC or files. Encryption modifies files so they can't be opened.

The number of malicious cyber attacks, such as ransomware, continue to grow and adapt every year. In fact, ransomware attacks rose by 93% in 2021 compared to 2020. Ransomware attacks have targeted school systems, healthcare informaiton and industrial complexes. the cybercriminals are not getting bolder in their attacks by interrupting supply chains and critical infrastructure, such as the hack into the Colonial Pipeline operating system in 2021.

Tips to Prevent Ransomware
Use secure networks, strong passwords and up-to-date systems
Learn how to identify and avoid malicious links
Maintain secure backups of essential files
Cybersecurity Risk #3: Smart Home Devices
The Internet of Things (IoT) technology has allowed us to connect to our cars, homes and multiple devices like never before. IoT devices continue to be developed with even more connectivity. Erickson predicts there will be close to 29 billion connected devices in 2022, which will produce tons of data needing protection from cyber attacks.

Prevent Cyber Attacks Via Smart Devices
Don't use the factory settings
Pick a strong password and check privacy settings and permissions
Check smart devices for security problems and updates regularly
Consider setting up a separate network for smart devices
Cybersecurity Risk #4: Data Privacy
Data privacy is a consumer's understanding of their rights as to how their personal information is collected, used, stored and shared. The use of personal data must be explained to consumers simply and transparently, and in most cases, consumers must give their consent before their personal information is provided. As big data grows, privacy concerns are also increasing. The possibility of data breaches can put your business's sensitive information in the hands of identity thieves.

The protection of data privacy has come to the forefront with the launch of the General Data Protection Regulation (GDPR) by the European Union in 2018. The GDPR applies to all data directly or indirectly related to an identifiable person in the EU that is processed by an individual, company or organization.

Any small business which processes the personal data of people within the EU is subject to the GDPR, no matter where in the world the business is based. Currently, there is no U.S. federal standard for data privacy protection, but many states have their own data privacy laws, including California's Consumer Privacy Act (CCPA) and New York's Stop Hacks and Improve Electronic Data Security Act (SHIELD) with more states creating data privacy laws in their legislatures.

Be Prepared for Data Privacy Laws
Determine if these laws affect your business
Review and update data security and data breach notification procedures
Update your site's privacy policy and terms of use.
Create opt-out, know and delete methodologies for email notifications
Respond to data removal requests promptly and document your actions
Consult with legal counsel to understand how these laws could apply to your circumstances
Cybersecurity Risk #5: Spear Phishing
Phishing is a type of social engineering scam that attempts to fraudulently obtain sensitive information using email. The email appears to come from someone that you know or have done business with. However, the message might include poor grammar, syntax errors, broken links, and the email address might be slightly different from the familiar one. The email could be written with a sense of urgency, demanding an immediate response. According to Cofence, 91% of cyber attacks start with spear phishing, a type of scam that targeted directly at a particular person in an organization.

Know the Signs of Spear Fishing
Train your team to not click on links unless they are positive that they trust the source
Watch out for messages that appear to be from people you know but are actually spoofed
Use anti-virus software, two-factor authentication and other security measures
Cybersecurity Risk #6: Human Mistakes that Lead to Data Breaches
In the past few years, there has been a rash of well-known cyber attacks on businesses, including British Airways, Marriot Starwood and Citrix. Cybercrime activities will cost businesses an estimated $10.5 rillion annually by 2025.

The 2018 Verizon Data Breach Investigations Report found that human mistakes caused 21% of data breaches.

Proactively Protect Your Business from Cyber Attacks
Create a cybersecurity policy that supports your data protection strategy
Train your employees on how to avoid phishing and other cyber attacks
Make sure remote workers are using strong cybersecurity protocol
Change passwords after employees leave the company
Courtesy of AmTrust
---
---
Comments
Be the first person to comment!
---
You must Login or Register in order to read and make comments!
Forget Password
Don't Have an Account? Click Here to Register.
Enter your email address below and we will send you a link to reset your password.