Will Work Comp Claims Increase?
---
---
I'm thinking yes.
Here's why.
The economy recovery is uneven at best. Auto manufacturing is hamstrung by scarcity of parts and a steel shortage, construction by not enough sawmill and timber workers, and many sectors desperate for parts lamenting the scarcity of shipping containers.
Hotels, restaurants, cruise lines and airlines are still a long way from pre-COVID revenues.
Supply chains will straighten out, demand will drive up wages for workers in key sectors, and that will drive increased employment.
All that may well increase occupational injuries.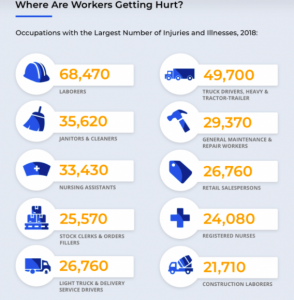 from Foresight…
As "injury-intensive" industries such as manufacturing, logistics, energy, and construction staff up and accelerate production to meet rising demand, they will:
hire inexperienced workers,
hire temp workers,
increase the speed of work,
have less time to train, educate, monitor and protect workers, and
increase overtime.
All this will increase the likelihood of injuries.
Add in rising employment, and you get more claims – and likely higher average severity.
That's bad news for workers, employers, and insurers – but good news for TPAs and service companies.
Expect you'll hear a lot more from NCCI Chief Actuary Donna Glenn in this week's Annual Issues Symposium. Will be reporting on the first day of the AIS later today.
What does this mean for you?
Success favors the prepared.
By Joe Paduda
Courtesy of Managed Care Matters
---
---
Comments
Be the first person to comment!
---
You must Login or Register in order to read and make comments!
Member Login
Don't Have an Account? Click Here to Register.