Safety Alert: February 2021
02/26/21
Texas Mutual Blog
---
---
As a service to our policyholders, Texas Mutual shares serious workplace injury trends based on catastrophic injuries and fatalities reported to our claims department. Not all of these reported injuries are covered by workers' compensation, but our goal is to help you ensure these types of incidents do not happen in your workplace.
Dismounting ladders and equipment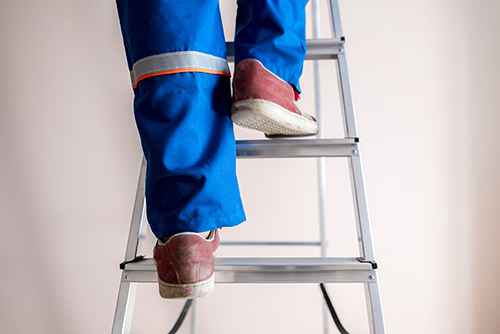 An employee was climbing down from a loader, missed a step and fell to the ground, hitting his head. In a separate incident, an employee was descending a ladder when he lost his footing, slipped and fell to the ground. In both instances, the employees received serious injuries.
Safety tips:
Never use damaged equipment.

Prior to dismounting, turn off machinery and ensure the equipment is in park, if applicable.

Before climbing down, inspect the steps and area below for any debris, slippery material or other hazards.

Face the ladder or equipment while climbing down.

Keep your hands free of items and use the rails the entire time.
Motor vehicle crashes: Equipment malfunction
An employee was driving his semi-truck, when a piece of equipment malfunctioned. The malfunction prevented the employee from steering, which resulted in the truck moving off the roadway and rolling over.
Most motor vehicle crashes are caused by driver behavior, but mechanical failures are still a contributing cause. According to the National Highway Traffic Safety Administration (NHTSA), the top vehicle-related crash causes involve the tires/wheels, brakes, steering, suspension, transmission or engine.
Safety tips:
First and foremost, stay up to date on any routine vehicle maintenance and have necessary repairs fixed in a timely manner.
Perform an inspection before each trip to check lights, tires and basic vehicle functions.
If you notice any leaks, check oil levels and have a mechanic look at the vehicle.
While driving, if you hear or feel anything unusual, pull over to a safe location and inspect the vehicle.
If your power steering goes out, turn your flashers on and slow down to a stop off the roadway.
Keep an eye on your vehicle's warning lights and temperature gauge.
Courtesy of Texas Mutual Blog
---
---
Comments
Be the first person to comment!
---
You must Login or Register in order to read and make comments!
Member Login
Don't Have an Account? Click Here to Register.