Safety Alert: Projectile hazards & heat stress
06/30/20
Texas Mutual Blog
---
---
Projectile hazards
An employee was on a construction site when a co-worker dropped a nail gun. A nail was discharged from the nail gun, which struck the employee in the eye.
Nail guns and other power tools are great for increasing efficiency, but also introduce dangerous hazards. Purchasing the safest type of equipment and thoroughly training employees are key to injury prevention.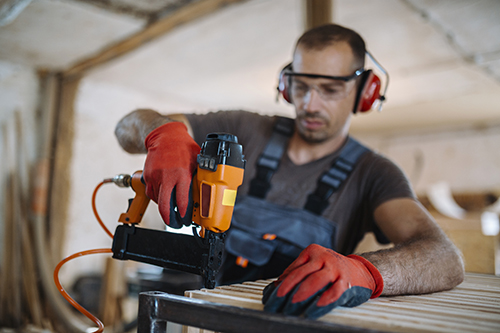 Safety tips:
Never use tools that you are not properly trained on.

Wear personal protective equipment (PPE) whenever you're on-site, even when you are not actively completing a task.

Disable, unplug and/or turn on safety controls for any tools that are not currently in use.

Avoid modifying tools or equipment, unless it's recommended by the manufacturer.
e-Learning course suggestions:
Heat stress
An employee was participating in an agility test outdoors, when they became severely dehydrated. In another instance, an employee was standing outside while the contents of his truck were offloaded. While waiting, he fainted from suspected heat illness.
Any type of work in a hot environment exposes employees to the risk of heat-related illness. With summer in full swing, it's important to make sure employees are trained and take precautions.
Safety tips:
When possible, rearrange job tasks so more strenuous jobs are completed in the early morning or evening.

Take breaks and drink water throughout the day. A general rule of thumb is one cup of water every 15-20 minutes.

If you'll be working in the heat longer than 2 hours, drink beverages containing electrolytes in addition to water.

Avoid alcohol and caffeine before and after work, as these dehydrate your body.

Alert your supervisor if you notice any symptoms of heat-related illness in yourself or others.
e-Learning course suggestions:
Heat Stress Symptoms & Prevention
Courtesy of Texas Mutual Blog
---
---
Comments
Be the first person to comment!
---
You must Login or Register in order to read and make comments!
Member Login
Don't Have an Account? Click Here to Register.