COVID-19: How to Reopen the Office
06/03/20
Policywire by AmTrust
---
---
Shelter-in-place orders are lifting, and America is beginning to reopen. This has small businesses everywhere wondering how they will open the doors to their office locations in a way that is safe for their employees.

The federal government has released guidelines to help state and local officials reopen. Some states have also released guidance to enable businesses to safely reopen.

We understand that it might be difficult to know where to begin when it comes to reopening your doors. All businesses should review the specific guidelines issued by the state and local governments in which they operate and consult with their legal counsel about how to safely reopen. AmTrust knows small business, and we are here to help with some general tips on how to get back to the office – safely and efficiently.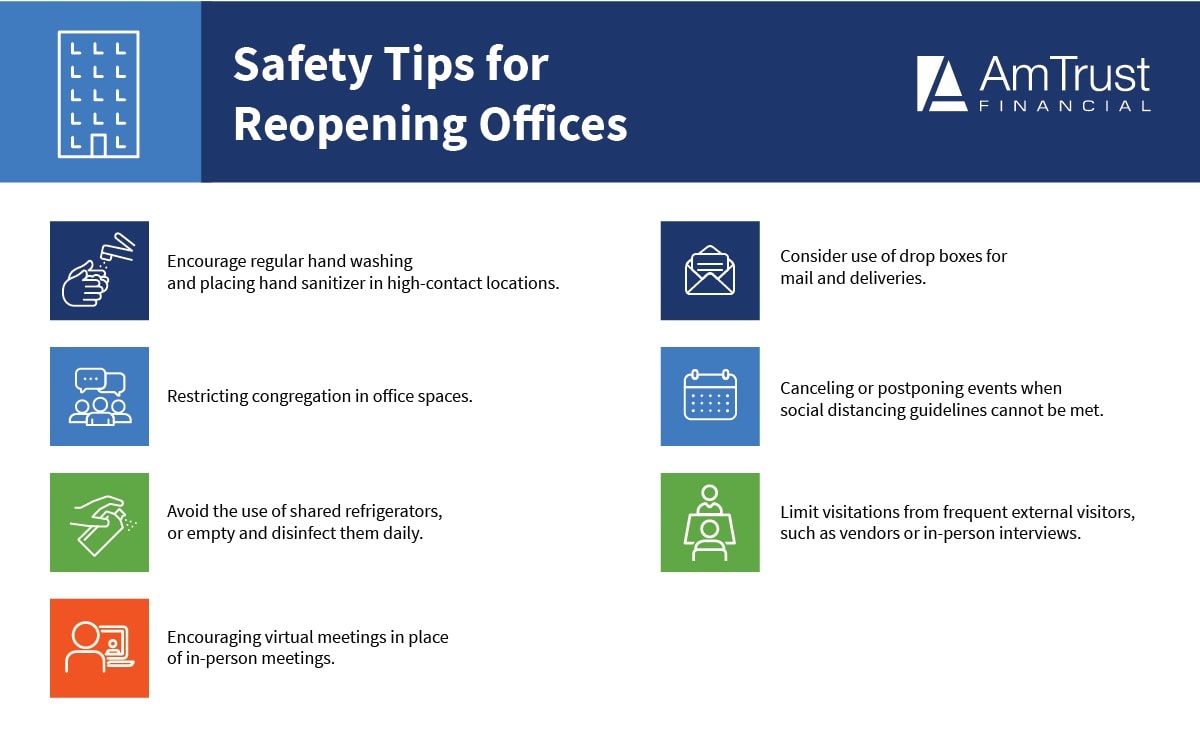 Changes to Physical Location and Workspaces
Creating a safer workplace for employees to return to is vitally important. Property managers and company leaders may consider making updates to office buildings, including the installation of new building access methods such as touchless entry (if these aren't already in place) – key fob or keycard access, or Bluetooth access using a smartphone for example. In the absence of these, installing hand sanitizer stations near the entrance can help make for safer access.

It's understood that office layouts will need to change to accommodate social distancing requirements. Most modern office layouts were not designed to fit employees six feet apart, as they have trended more toward open-plan layouts and bench-style seating. Other office updates can include the installation of barriers in between workstations, and placing markers on the floor to encourage a one-way flow of traffic or other ways to create adequate space between employees within walkways. Remind employees of social distancing requirements by posting signage in common areas, like the breakroom or copy room. Businesses should also limit the number of individuals that can ride in an elevator, and create a six-foot spaced line to avoid congestion while waiting.

Finally, require frequent cleaning of desks, workstations, common areas and high-contact surfaces using EPA-approved and CDC-recommended disinfectants. Be sure to provide adequate disinfectant wipes, paper towels and no-touch trashcans for disposal.
Establish New Guidelines for Employees
It's essential to consider making changes to employee policies and practices. This approach will provide adequate accommodations to ensure a safer and easier transition. Be sure to communicate clearly to staff ahead of time about the changes they can expect when they come back to the office.

Staggering the employees' return, combined with allowing remote employees to continue telecommuting, should be able to keep previous workstations unoccupied to allow for space between those in the office.

Another tactic to consider is dividing essential employees into groups and developing rotating shifts. In later phases, offices should consider alternating work-from-home days among staff to limit the number of people in the building.

A few more policy updates to think about are:
Encouraging regular hand washing and placing hand sanitizer in high-contact locations.
Restricting congregation in office spaces.
Avoiding the use of shared refrigerators, or empty and disinfect them daily.
Encouraging virtual meetings in place of in-person meetings.
Considering use of drop boxes for mail and deliveries.
Canceling or postponing events when social distancing guidelines cannot be met.
Employers need to collaborate with employees to create a safe workplace, help them continue to be productive at work, and to help manage their mental and emotional health as well.
Guidelines for Office Visitors
If your business operations included frequent external visitors (like vendors, for example) to the office before the pandemic, we recommend you place a stricter limit on these visitations moving forward. The same goes for hiring practices as well. Whether your business had been actively recruiting before the pandemic or you now find yourself in need of additional staff upon returning to the office, we suggest you develop new ways to recruit and hire that fall in line with legal and safety regulations.

While this certainly presents a challenge, conducting face-to-face interviews can still be done using services like Skype, Zoom or by utilizing the FaceTime feature on an iPhone. If it's necessary to bring someone into the office for an interview, make sure you take proper safety precautions to protect the health and safety of your staff and your potential candidate.
Courtesy of PolicyWire by AmTrust
---
---
Comments
Be the first person to comment!
---
You must Login or Register in order to read and make comments!
Member Login
Don't Have an Account? Click Here to Register.