Coffee Shop Coronavirus Risks and Safety Tips
04/08/20
PolicyWire by AmTrust
---
---
Across the U.S., most of the major coffee shop chains like Dunkin' Donuts and Starbucks, along with a number of local establishments, have remained open amid the COVID-19 outbreak. Here's a closer look at some of the cautionary measures they are taking to help prevent the spread of the virus.
How Coffee Shops are Staying Safe during the Outbreak
Increased cleaning efforts. Shops are abiding by standards for sanitation and cleaning in accordance with CDC guidelines. This includes more frequent cleaning and disinfecting of high-contact surface areas, increased frequency of handwashing and providing gloves for cashiers and drive-through workers.

Limiting exposure as much as possible. Most shops have removed in-store seating and tables, along with outdoor patio furniture, and adequate signage has been posted to emphasize strict adherence to social distancing rules. In many cases, purchasing in-store is no longer an option.

Suspending use of personal cups. Stores that sell personal, reusable coffee cups have notified customers that the use of these has been suspended; however, most establishments are honoring any discounts previously offered by using these cups.

In-store purchase alternatives. Stores that offer smartphone applications allowing for mobile ordering and payment have been encouraging customers to use this option. Drive-through and curbside pick-up is urged for locations that provide it. Major chains like Dunkin' Donuts are partnered with services like Grubhub to provide contactless delivery of most menu items.

Reduced menu and/or hours. Some coffee shops have reduced their hours and menu items to limit customer volume and provide more time for cleaning and sanitizing.

Read on for more information about common insurance risks that coffee shops face and the resources AmTrust has available to help mitigate them.
Coffee Shop Insurance Risks
Think of your favorite coffee shop, with its calming atmosphere and enticing aromas. From an insurance perspective, it might not be the first business type that comes to mind as having a multitude of insurance risks; however, when you examine them closely, there's more than you might expect.

In fact, according to our Restaurant Risk Report, compiled from a review of restaurant class codes as a means to reveal emerging industry trends, cafes and coffee shops actually yield the highest amount of lost time in the workplace due to employee injuries, with 45% more time lost than all other restaurant types.
Coffee Shop Risk Assessment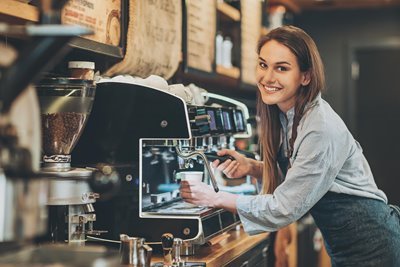 Coffee shop owners should create a robust risk management plan that can help reduce some of the common insurance risks they face. Being aware of the common reasons employees get injured on the job is the first step, helping to reduce the amount of work-related accidents in their establishment. But, injuries aren't the only risks coffee shops face. Let's take a closer look at some of the most common insurance risks coffee shops encounter:
1. Muscle Strains or Sprains from Slips and Falls
Slips and falls account for a substantial amount of workplace accidents and injuries, and coffee shops are no exception. Wet and slippery floors due to spills from beverages and food, or an interruption in good housekeeping practices can cause slips and falls for employees and customers. Trips can occur from uneven flooring or insufficient lighting in certain areas.

If a customer is injured due to the shop's products or is injured on the property, the shop (and its insurance carrier) might be on the hook for medical bills, and pain and suffering. For employers, they're likely to have a workers' compensation claim on their hands should an employee be a slip and fall injury victim.
2. Burns or Cuts
Perhaps the most obvious coffee shop risk is burns from hot coffee. For customers, this risk presents itself when served coffee that is "too hot" (for example, the high-profile case of Liebeck v. McDonald's Restaurant) and/or the cup's lid is not properly secured, causing it to spill and cause a burn injury. This can open up a coffee shop business to lawsuits for customers seeking compensation for their injuries.

Employees are also at risk for burns while using equipment to prepare coffee, or from the coffee itself. Incorrect equipment settings, defective electrical wiring, etc. could heat coffee to an unsafe level. In addition, if the coffee shop serves food like sandwiches, employees are at risk for cuts from preparing these items. To learn more about safety with food preparation, check out our blog post: "Knife Safety Training Tips for Commercial Kitchens."
3. Repetitive Motions
Lateral epicondylitis and medial epicondylitis, better known as tennis elbow and golfer's elbow, respectively, are two conditions that cause pain and inflammation in the tendons connected to the elbow (tennis elbow affects the outside of the arm, while golfer's elbow occurs on the inside of the arm). In both cases, these conditions are caused by repetitive motions that put strain on the arm.

When you think about how many cups of coffee are made in a day, using the same equipment repeatedly, lifting jugs of milk, grinding coffee beans and so on, you can see why a barista might succumb to tennis/golfer's elbow, which could lead to a workers' comp claim.
4. Property
Coffee shops require the use of expensive machinery, like espresso machines and coffee grinders. Most shops have furniture like seating and tables for their patrons. There is inventory like the coffee itself, food, milk – all of which are subject to damage should a refrigeration unit break down and cause these items to spoil. The shop's property is also an insurance coverage consideration – the building, outdoor furniture (if applicable), signage, etc.
5. Cybersecurity Attacks

Cybercrime is persistent threat, especially for small businesses. Why do cybercriminals seek out small businesses? They're often easy targets and are prey for identity thieves because they typically have less security in place than larger companies. A cybersecurity breach of a coffee shop location could compromise customer data, such as financial information. Check out our resources on cybersecurity:
Courtesy of PolicyWire by AmTrust
---
---
Comments
Be the first person to comment!
---
You must Login or Register in order to read and make comments!
Member Login
Don't Have an Account? Click Here to Register.