Opioids in Workers' Compensation - What's the Latest Research and What Can You Do
---
---
Dr Vennela Thumula led off a panel discussing the latest research on changes in opioid prescribing in workers' comp.
Many factors have contributed to the decline, PDMPs, changes in prescribing guidelines and enforcement via legislation, public education and workers' comp drug formulary adoption are among the contributors.
Key takeaways from research looking at two time periods; 2014-2016 and 2016-2018.
Opioid use decreased in nearly all study states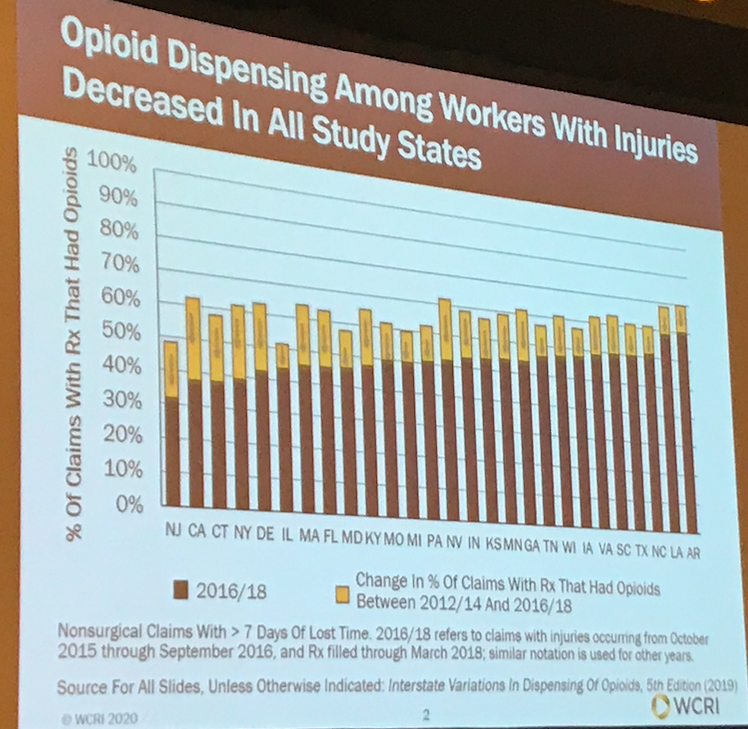 The average volume of opioids dropped in almost all states too.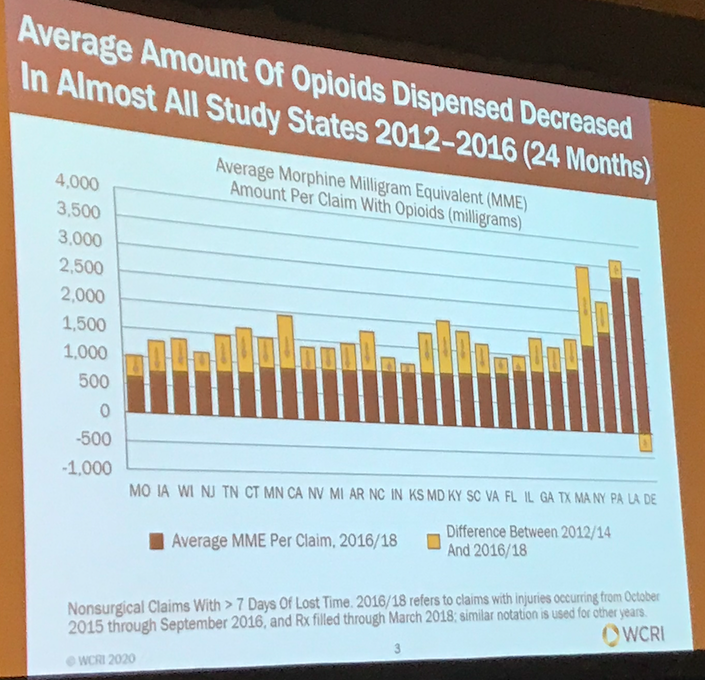 There was more use of non-opioid pain medications as opioid use decreased.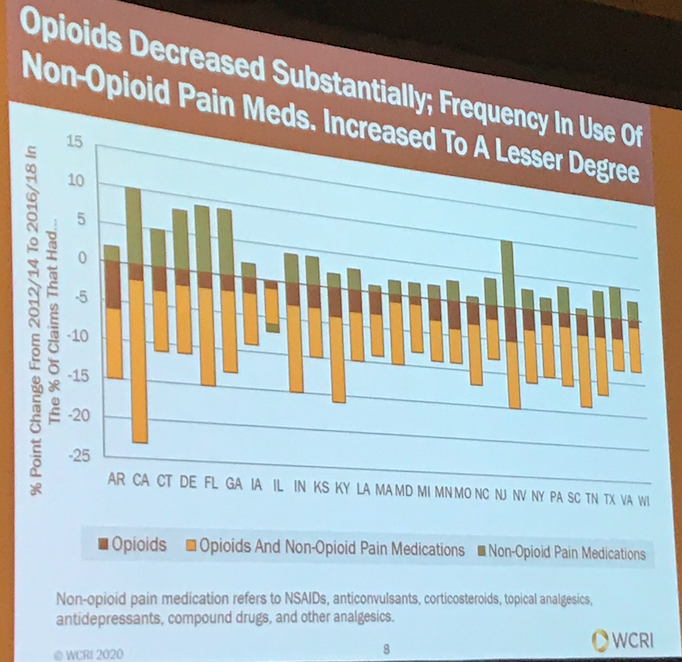 Finally, overall, fewer workers are getting pain meds these days, a positive outcome indeed.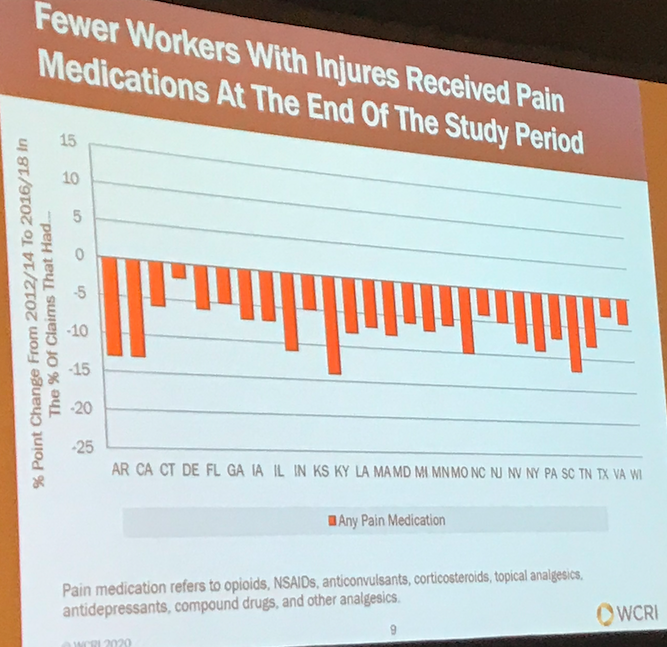 Panelists discussed the information in depth an dove into specifics; Dr Albert Rielly of Mass General Hospital noted that at one point the number one cause of death for workers' comp back patients receiving surgery was opioid poisoning. He also described a situation in Germany where a person was surprised when they didn't get Vicodin after major dental surgery; ibuprofen was deemed enough. And, it was.
Dr Rielly rarely prescribes opioids to treat occupational injuries, and provided insights into alternative treatments for pain. He noted when one starts PT is key; it may not be appropriate to begin PT right away, just as it usually isn't helpful to delay for several weeks.
John Christian, a practitioner who runs an assistance program for the construction trades in Massachusetts indicated there is good news and bad. Fewer patients are testing positive for inappropriate drugs, and the death rate for opioid overdoses has declined. The bad news is, opioid use may not be going down, rather there are fewer patients dying due to the increased availability of Narcan.
Mr Christian noted the death rate for opioid poisoning remains high; he also noted that massage and acupuncture is becoming more common among his patient population – and he's a fan of cognitive behavioral therapy. The longer the patients are in treatment, the better the outcomes,
A somewhat-new problem is emerging – topicals intended to treat pain. Dr Thumula noted the use appears to be increasing, particularly in Illinois. Nina McIlree MD of Zurich echoed Dr Thumula's point, indicating Zurich is seeing more prescribing of dermatologics. Pain kits have been growing as well; these are branded compounded kits that may include tape – plus over-the-counter medications to deliver those "medications".
What's coming…
Dr McIlree opined that we need to be watchful especially regarding invasive procedures, potentially inappropriate use of spinal cord stimulators, and the old favorite – epidural steroid injections.
Dr Rielly suggested prescribers need to focus on quality of life and functionality when speaking with a patient in pain, along with a quick determination of the efficacy of treatment, the idea being to stop doing stuff that isn't working quickly and move to something that may help.
The key takeaway is that pain is a symptom, not a cause. Therefore if you don't address the underlying issue, you'll never be able to affect the pain…increasing opioid dosages, trying expensive and unproven novel treatments, wrapping limbs in fancy athletic tape all focus on the wrong thing.
What does this mean for you?
Opioid use is declining- and that is a very good thing.
Be really vigilant about "alternative treatments" with scant solid research backing up any claims.
Chronic pain management is difficult, time-consuming, often not linear, and requires a very long term commitment; these patients do not "get better" quickly.
Be patient and persistent – and don't get discouraged.
By Joe Paduda
---
---
Comments
Be the first person to comment!
---
You must Login or Register in order to read and make comments!
Member Login
Don't Have an Account? Click Here to Register.