It's Work Comp Pharmacy Week at MCM
---
---
And to kick it off, here are quick facts about work comp pharmacy…
Total workers' comp drug spend was about $4 billion last year. Others will argue it's much higher, after 15 years of digging into the data I'm quite comfortable that figure is accurate.
That's about 13% of total work comp medical spend of $31 billion (using NASI's industry-standard report as the source).
Work comp drug spend has been steadily – and significantly – decreasing for the last eight+ years; my best estimate is drug costs are down about $1.1 billion since 2010.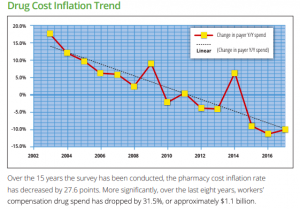 This remarkable drop has been driven by dramatic decreases in opioid usage and fee schedule changes; PBM consolidation has also been a driver as PBM pricing has declined over the last several years.
Today there are two major WC PBMs, two mid-tier ones, and a host of much smaller companies with little market share.
In 2017, opioid spend declined to less than a quarter of total drug costs, driven by a 30% drop over the previous two years. The even-better news is patients not taking opioids also don't need to take drugs to mitigate the side effects; insomnia, depression, constipation, erectile dysfunction, etc. And, the knock-on effects on claim duration and settlements are positive indeed.
You can download CompPharma's latest PBM in WC report here, all of our 15 surveys are available here.
Tomorrow we'll dig into pricing and what's real – and what isn't – in the media's coverage of drug pricing.
By Joe Paduda
Courtesy of Managed Care Matters
---
---
Comments
Be the first person to comment!
---
You must Login or Register in order to read and make comments!
Member Login
Don't Have an Account? Click Here to Register.