04-14-2009, 12:41 AM (This post was last modified: 04-15-2009, 09:31 PM by chrischris.)

Paul and I on a Pike's Market Tour. We all carried radios and wore ear pieces in order to hear the tour guide.



A scene of downtown Seattle. It was so diffferent than I expected. So much to do, and so much coffee and chocolate. I thought it was the weirdest place ever at first, because so many people were walking around in costume. Then I found out there was a cartoon convention going on. Ha!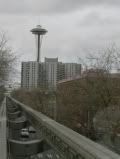 The monorail system leading to the space needle, right outside our hotel. We went there twice. Built for the 1962 World's Fair.



Paul and I on the observation deck of the Space Needle. It was very windy and icey cold. Can you see my teeth chattering?


I have to add that it was just too cold for me. RSD does not like cold weather! I was wearing two shirts, a sweater and a sweatshirt over that; plus I bought a scarf to wrap around my neck, gloves, and wore my hair in a ponytail with a baseball cap the entire time we were outdoors.

We had a blast, and it was one of our most memorable anniversaries. Loved it!!!!

More later; I'm very tired from the traveling.
Let Go, and Let God......