---
Getting frustrated!! - tpm - 05-19-2009

I decided to change my pain management doctor and have found it is not an easy task. It seems the couple of doctors that were recommended to me will not take me for medications only. If I were getting injections it would be another story. At my last appt. with my PM doc he wouldn't fill a prescription my surgeon wanted me to have (muscle relaxer). In addition I ran out of meds before the end of the month because I had to double up on some doses due to pain, he wouln't make any adjustments in doses. If that wasn't enough he told me not to expect perfection as I was walking out referring to my pain and amount of.
I have an appointment with my Neuro in a few weeks and will ask him to handle my medications as he once did.
Luckily I am very happy with all of my other doctors


Take care and Be Well


---
RE: Getting frustrated!! - jayne - 05-19-2009

TPM...it is a balance this pain management because it is just that pain management...I have not had a pain free day since I got hurt...no one will ever make you pain free....but a good PM doc will give you more than meds to help you manage your pain.....
You must understand because so many Docs and patients mismanaged narcs the docs who do give out RX for narcs are watched very carefully.....they can adjust your dosage once a month but if you doubled up you were in the wrong.....you have to find another way to deal with it weather it be with heat or ice packs or floating(my fav) or breathing you cannot double your dose unless you wish to go without....My Doc and I talk he knows there are hi pain and low pain days and he helps me manage it.......if I can deal with the pain I dont take the meds that leaves me an extra dose when I need it.....Winter I hurt worse than summer so he adjusts the meds for that....you are cervical I believe so try floating...I forget where you live but do you have access to a pool or large body of water where you can just float on your back and take all the weight off your neck and back....I bought a pool with my settlement so I could float several times a day without going to the lake.....it is why in the summer I do less narcs than in the winter.....I strongly suggest you buy a travel pillow(horseshoe shape)to sleep with along with your pillow...stay off riding lawn mowers or anything that bounces your head it bloody hurts.......I used to use the riding mower to help mow but would be in the ER that nite....I quit that fast.....Back roads where your head bounces is a nono....and I believe your trucking days are gone.......even with the newer trucks you still bounce and the constant movement of your head is a pain in the neck......sooooooooooooooo not to be a witch but get a note book and write down what you were doing right before the pain flares and see if there is a pattern....you will find even getting cold will cause a headache...Talk to Bad Boy as he is also a cervical and may have more ways to help you deal with this pain as med free as possiable....good luck


---
RE: Getting frustrated!! - tpm - 05-19-2009

Thanks so much Jayne
My pain is really bad every day and with a dosage of 4 norcos a day or vicadin it just isnt enough. I will take a Ultram (4 X a day also) with a norco and 1 1/2 to 2 hours later I'm suffering for the 4 hours to be up for the next dose. I was on 10/325 Norco but the doc took me off it after my surgery, now I am on the 5/325.
Luckily we just put a pool in, when I went back to work after my 1st surgery we made the decision. Little did I know I would be back out. The pool and my new Grandson do give me a whole lot of joy


Thanks again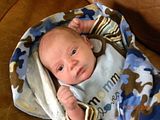 ---
RE: Getting frustrated!! - jayne - 05-19-2009

ohhhhhhhhhh my that grandbaby is beautiful and the pool well you are one lucky fella...mine is an above ground but I do enjoy it......Ask for another MRI to see if you have slipped or are having scar tissue problems....


---
RE: Getting frustrated!! - vickinat - 05-19-2009

TPM,
Absolutely gorgeous grandson. Have you tried using a TENS unit?? Mine was originally prescribed for my Lumbar spine, but when my Cervical was injured and had a 2 level fusion, the PT used a TENS on it and it helped, so I use it at home on wherever my pain is worst.

I also use a neck pillow as Jayne had mentioned, I got mine at Walmart for $10. and it has a massager in it, but that is too vigoruos for my neck but nice on my lumbar. I agree that you should have a new MRI done. My last one after my Lumbar surgery showed that scar tissue filled the area where they widened the foramin for the nerve.

It is very difficult to come to terms that you'll continue to have pain (in my case for life and will get worse) and have to use meds. and other things to function daily. My last PM Dr. found the correct med regimend thru trial and error and then when there was'nt any more he could do for me besides the meds, he said my family Dr. could take over refilling my scripts.

I just started with a new Dr. since I have moved from Pa. to Ca. I will see if he'll do everything instead of having so many differant Drs. to go to. You may want to discuss everything with your family Dr. and see what he suggest, especially about getting an MRI with and without contrast.

Good luck, and enjoy that little bundle of joy.
Love
Vickie


---
RE: Getting frustrated!! - tpm - 05-19-2009

Thanks Vickie

I am currently going through PT again and while I am there using the tens and ultrasound. I do have a tens unit at the house but it hasn't helped much. I have an appointment with the surgeon in 2 weeks and will have x rays taken. I will also ask about another MRI as well. Is in fact an MRI better then a CT scan in finding scar tissue?
There is a Walmart 2 minutes from the house so I will make a point to get that pillow. Sleep was never an issue for me until my 2nd surgery

And thanks about the kind words for my grandson. We are fortunate in that they are living with us for the 1st year. I have another daughter pregnant with our 1st granddaughter due in August.
Can't ask for more then that

Thanks again and Be Well


---
RE: Getting frustrated!! - Bad Boy Bad Boy - 05-19-2009

TPM, I'm concrened to why after this surgery, your in so much pain.

You might want to try and get your surgeon appointment pushed up, by asking them if someone cancels to put you in.


---
RE: Getting frustrated!! - sparkey - 05-19-2009

I also had the same problem with my PM doctor. After them doing so much for you they eventually have nothing more they can do. They are not there just to prescribe meds as they told me towards the end. My last visit with them they told me that because I was refusing a spinal cord stim. at the moment that I would have to have my primary doctor prescribe my meds. My primary doctor is not keen on prescribing narcotics but I did have a long talk with him and because I have never abused the drugs he gives me for my restless leg syndrome he decided he would prescribe the meds. from PM.

Things have been going well for the last few months of my primary doctor prescribing the narcotics for me. I am going now to a new PM doctor and he has done one cervical injection and I have so much fear in me right now from the pain I had in my middle of my back between my shoulder blades after the procedure that I could not sleep for 2 days that today was suppose to be my second injection and I cancelled it. I will not go through that again as it did not help my hand pain anyways. So why go through that again?

I think if the pain meds are not working you should look into a longer acting medication such as the Fentanyl patch or Oxycontin or methadone. Speak to your doctor about which longer acting medication would be best for your pain. If not you would still be popping pills every 4 hours or using more than you should. Like Jayne said you will never be 100% pain free. I learned that when I was first injured.

I thought also that if I took these meds that I could be pain free. My doctor told me that I would NEVER be pain free, just less pain. So do not expect that. I am always at a 6 on a good day and a 8 or 9 on a bad day. I wish you luck in finding the right medication to help ease your pain.


---
RE: Getting frustrated!! - tpm - 05-19-2009

Thanks everyone for your concerns
I think either my Neuro or my primary doc will be handling my meds. I called another PM doc today but they would only take me if injections were involved.
Bad Boy I did put a call into the surgeons office and I am on the list (thanks)
Sparkey ~ I will be looking to ask about the longer acting meds, but I was so hoping I was taking another path by now. I do know and understand I will never be pain free but I would like to think I can feel better then the way I have been, seems it is going in the wrong direction
Jayne ~ at least I get a laugh every time I see that green little thing dancing around thanks!
Be well


---
RE: Getting frustrated!! - Bad Boy Bad Boy - 05-19-2009



TPM

, I would agree, if you are walking now, I too would have thought you be in a lot less pain then before the surgery. For when you posted your X-Rays, they lQQked very good. You had a good curve in the Cervical spine also. (Where mine has been about straightened out after my surgeries).


---