This is Why Media Gets a Bad Name.
The LA Times' Patrick McGreevy penned a piece on California's State Fund – one that I contend is highly misleading.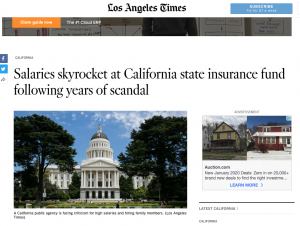 McGreevy – and his editors – did their readers a disservice when "reporting" on executive compensation at the State Compensation Insurance Fund of California, focusing only on complaints about compensation and unsubstantiated claims of nepotism. Fact is, under CEO Vern Steiner, the State Fund has made a remarkable turnaround, one that has literally and figuratively paid dividends for businesses and taxpayers throughout the state.
McGreevy failed to mention anything about the Fund's 2019 performance ($160 million in dividends paid to policyholders while significantly strengthening reserves) – performance he knew about before he wrote his piece.
Here's an example of McGreevy's reporting; an uniformed – at best – comment from one so-called "former industry executive":
"It's a very cushy gig…They don't do much of anything and they get paid a ton."
[Oh, and the guy who said that worked for a not-for-profit insurer – USAA – that paid it's CEO 5 times what State Fund CEO Vern Steiner made. And the State Fund had a MUCH better year.]
But about that comment; specifically "they don't do much of anything".
I called Steiner to ask how the State Fund has delivered those results. Here's what he said.
MCM – Talk about the Fund's financial performance.
VS – " [We] went into this year knowing that the Fund's financial strength was exactly where California needed it to be to handle the market no matter what comes. Reserves are very strong; surplus is what we need to withstand any catastrophe; biggest risk is significant reserve negative development – we can handle this."
"For 2019, we planned to break even, instead, investment performance was so strong that we realized $100mm in capital gains due to equity investment performance."
MCM – What are the factors that drove this?
VS – There have been several transformative initiatives at the Fund, largely driven by claim performance and investment performance.
This could not have happened several years ago. A few years ago the State Legislature authorized additional executive positions at the Fund and allowed the Fund to invest in equity. We hired a Chief Investment Officer, and the equity investments have generated much more in unrealized cap gains. Our state insurance code only allows us to invest 20% of unrestricted surplus in equity; as our equity portfolio increased in value, it exceeded that 20%, so we had to sell off equity to get under 20%. This happened several times in 2019, creating a large so a capital gain. We didn't need this money for reserves, so we are giving them to our policyholders.
MCM – Has the Fund's medical management of claims affected results?
VS – "The Chief Medical Officer position was also created by the Legislature. After Dinesh Govindarao came on board we created a comprehensive approach to the opioid epidemic; the work that was started in 2013 is impacting reserves for claims going back to 2008. About $60 million dividend is from claims improvement…[there] may be as much as several hundred million more in dividends from our opioid initiatives alone."
"After the Palm Medical case, we had not removed any physicians from our previous network, so we closed it down, rolled out a new network in 2016, and did not include physician offices in our pharmacy network. That had a massive impact on lowering claim costs."
MCM – Any significant changes to claims handling?
VS – "When the Chief Claims Officer joined at the end of 2015 we redesigned the claim model to move than 1/3 of open claims that were from early 2000s to a dedicated group of adjusters specializing in resolution. We had (received) a million claims over a 5 year period [this happened back when the California work comp system was in crisis and the State Fund had over 50% market share]
In 2015 a third of our open claims inventory was from that period, managing these claims was taking a lot of attention away from focusing on the 20,000 new claims we get every year. We separated the old and new claims, have different people working those and as a result we are closing claims at faster rate then ever and this continues to improve."
The result of all these people in "cushy jobs not doing much" is a State Fund that's:
never been stronger financially,
has returned $160 million to policyholders, and
is one of Forbes' 500 best mid-sized employers to work for.
[btw USAA – where that "former exec" worked, the one where the CEO makes five times what Steiner does – didn't make Forbes' list.
What does this mean for you?
Kudos to the State Fund for delivering remarkable results for patients, policyholders, and taxpayers.
By Joe Paduda
Courtesy of Managed Care Matters