---
RE: Wife Hurt at work Iowa - jayne - 08-28-2010 10:25 PM

Okay I have a cervical injury it didnt heal well and until topamax I suffered from daily migrains.....there are several of us on here with cervical injuries.....I suggest you have a sitdown with a good WC lawyer and see if he can give you any good advice about second opinions....if you have the medical on her get her to a good Doc in the mean time get a mens tube sock fill with rice(not minute rice) heat in microwave till warm and wrap around neck...carefull this can get hot and burn so start at one minute and heat for 30 sec after that till warm enough....floating in a pool of water helps also if you have access to a pool.....but from your first post your wife sounds like a tiny woman so she may not float well us fattys can float for a long time....you and your wife must be your own advocates cuz no one else in the WC system gives a darn......if you cant then you need a bulldog of a lawyer......good luck and welcome to the forum


---
RE: Wife Hurt at work Iowa - cnn7 - 08-28-2010 11:26 PM

Well (( Let The Game Begin ))

Question --- for that 2nd Opption do we need there approval or do we just have to let them know she is going for a 2nd ?

Also she has an appointment with our doctor on Tuesday. Should we still do that or not ? asking because I know I been told if you get hurt at work and go to your own doctor they'll say it didn't happen at work. Not like that matters. Were I work I've gone in with pain in my shoulder and the nurse told me well it didn't happen here. as if i was trying to take money out of her pocket. be waiting for your replies. Again many Thanks to all of you. Joe & Becky


---
RE: Wife Hurt at work Iowa - jayne - 08-29-2010 12:04 AM

since you are paying for it....I guess you can go on your own just be up front and honest with the Dr and let him decide if it could could have happened at work or not....be sure and get copies of his report if he says it is work related find a good lawyer....just to be up front with you ...WC is a long haul and no one wins....there is no money in it but it will take care of your wifes medical.....just a caution for you...sometimes people go into this looking for massive settlements...WC doesnt pay pain and suffering so if you come out of it with the top two buttons of your shirt your lucky.....


---
RE: Wife Hurt at work Iowa - AQA - 08-29-2010 01:01 AM

I would request from the IC that she get a second oppinion and see what they say. If they disagree, I would get it on my own. After all, it is my body and I want to be well.

Now, I must question this. quote " asking because I know I been told if you get hurt at work and go to your own doctor they'll say it didn't happen at work. " end quote.

I don't know where that BS is coming from. If " THEY " say it didn't happen at work. Let them prove it.

I would have had a field day with that nonsence and pissed off a whole lot of people, and smiled the whole time.


---
RE: Wife Hurt at work Iowa - Bad Boy Bad Boy - 08-29-2010 09:11 AM

You can see and pay for any doctor you like. Your paying for it. if you tell them what happen and were is good, if you don't the doctor can't say it is work related. Then again, I once had a doctor say to me, (how do I know if you did it at work, I wasn't there to it?) Never know what a doctor will say. But, you think you word is enough to tell the event. if you tell your own doctor, you Insurance may not pay if it is written work related injury. Then your going to pay for the visit. and treatment from there on.

Once again your State law and Rules for doctor's I posted before and will again.

Iowa

The employer provides medical care reasonably suited to treat the employee's injury, and has the right to choose the medical care. If the employee is dissatisfied with the care offered, the employee should discuss the problem with the employer or insurance carrier. In certain situations the employee may wish to request alternate care. If the employer, or insurance carrier, does not allow alternate care, the employee (through appropriate proceedings) may apply to the workers' compensation commissioner for alternate medical care. (85.27)


---
RE: Wife Hurt at work Iowa - jayne - 08-29-2010 09:47 AM

cnn7 my work also didnt want to pay...no problem I went to my personal IC told them what happend and that it was disputed...I never lied to either IC.....My personal IC started treatment and between them and my lawyer it was no time before WC was paying for the treatment.....you see once your personal IC is involved...its their lawyers againt WC lawyers......you are treated you are telling the truth and out of it.....You must have a good agressive lawyer it is key to getting things done. Dont settle for anything less....


---
RE: Wife Hurt at work Iowa - cnn7 - 08-29-2010 11:18 AM

My son added the photos to his computer and over lap them. We then took these photos and are in the process of sending them to her case worker. And demanding a 2nd oppion
Here shows the two side by side, as you scroll down they will be moved together.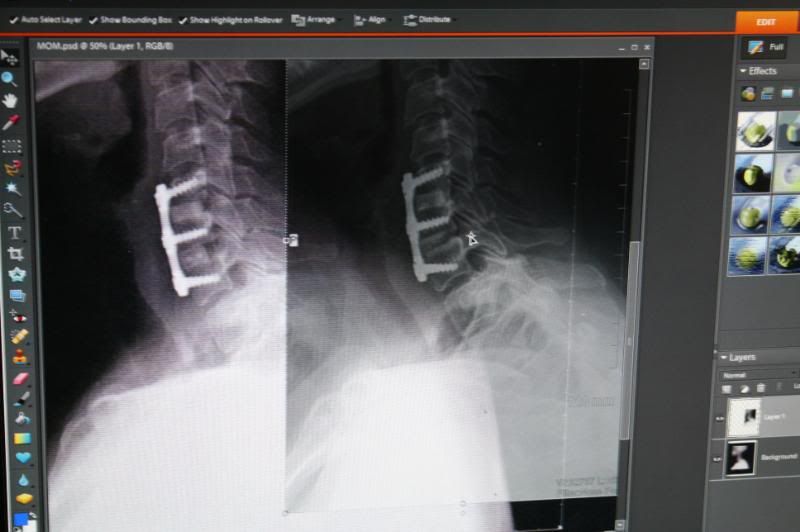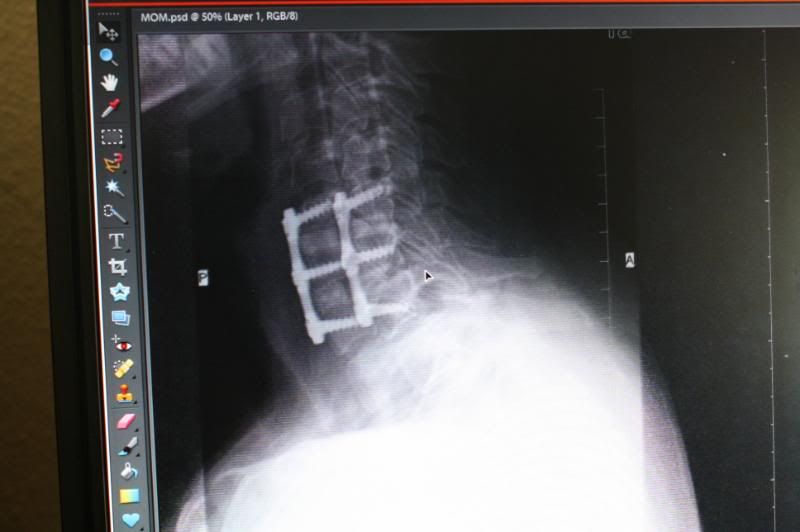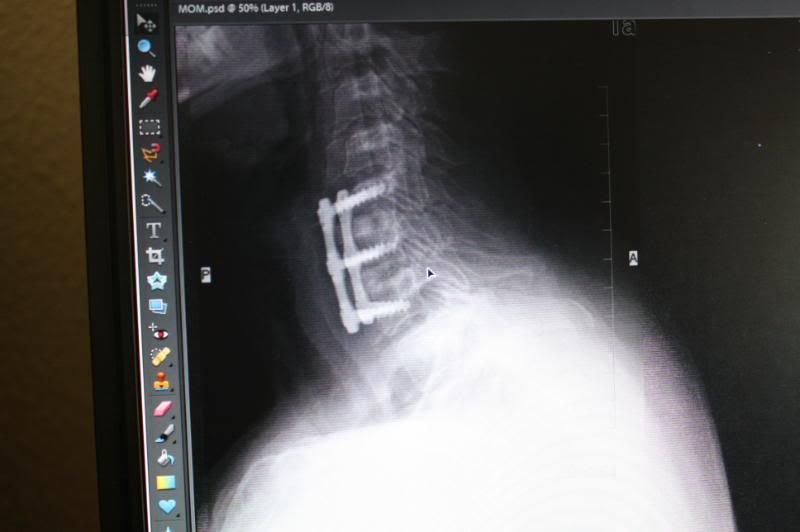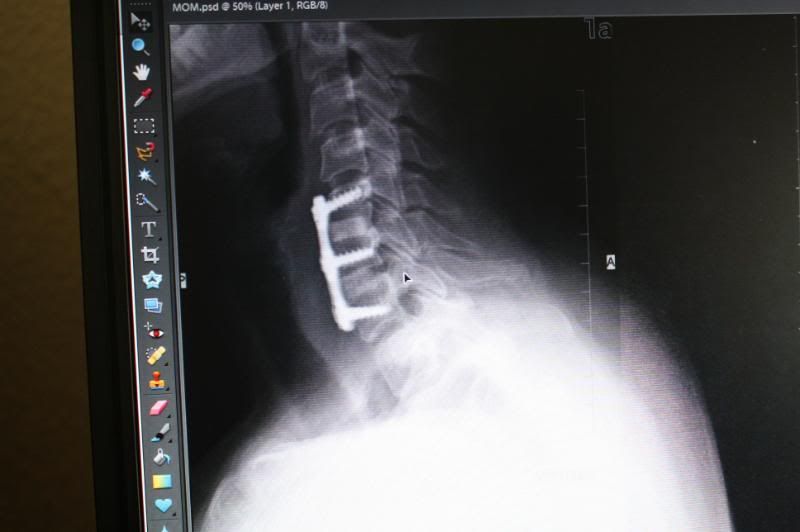 Perfect match. This doctor is a looser to make a call without having all the details, Or xrays in this case. But it's not over there is something wrong and I'm worried it with her back :>(


---
RE: Wife Hurt at work Iowa - Bad Boy Bad Boy - 08-29-2010 02:46 PM

I would like if you could tell what film is from what Date and year.

Then I would like you to tell me just about everywhere she hurts, what it fell likes and everything.

Also tell the levels of those 2005 Fusions. No one ever forgets that.

Can you also re-post the first one and send the one from the right in a clearer picture, it's to dark for what I'm looking to see.

For I think the Vertebre above the fusion area that the disc is smaller then it should be, and it looks like that Facet it rubbing.


---